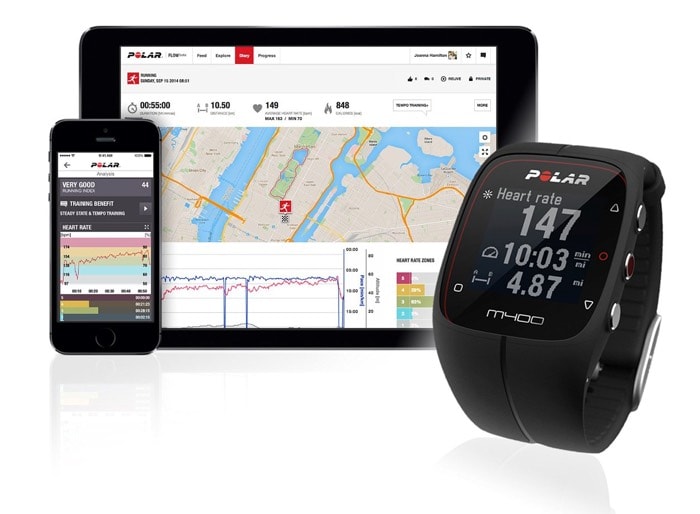 Polar M400 is a training watch that is part of a new generation of sports GPS watches that combines the simplicity of fitness wristbands with GPS activity and heart rate tracking. And all at a price closer to a fitness bracelet than a GPS watch. The result is a surprisingly functional device, especially when combined with a Bluetooth chest strap. Read this Polar M400 GPS running watch review, to find out more about the best rated  GPS running watch.
Polar M400 GPS Training Watch Review
Specifications
Screen size: 1.2″
Made of plastic
Training heart rate monitor with integrated GPS and 24/7 activity log
Highly customizable
Up to 20 sport profiles
Battery life: 8h (GPS activated) and 20 days (GPS deactivated)
Submersible to 30 meters
Compatible with H7 HR heart rate sensor
Possibility of using the POLAR Flow service
With altimeter, GPS, heart rate monitor, calorie control, pedometer, inactivity alerts
Sleep log
Bluetooth connectivity
App compatible con Android e iOS
Weight: 56.6 grams
Rechargeable battery
Price: $180 with H7 heart rate sensor included
Design
It is an incredibly thin (11.5mm) and light (56.6 grams) training watch. It is no larger than most fitness bracelets and is less obtrusive than almost all other GPS watches on the market.
The 1.2″ screen has a resolution of 128x128px, and clearly cannot be compared to a smartwatch but it is bright enough to be visible even in direct sunlight and shows us a lot of information on the screen. It has a backlight for at night.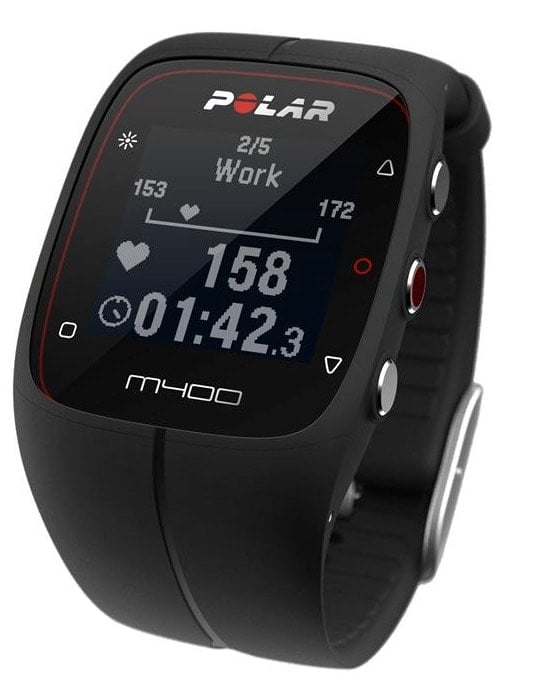 The five buttons (up, down, select, back, light) work well and are designed not to be accidentally pressed. On the back, there is a micro-USB connector for charging the battery. You can sync your data via Bluetooth with a smartphone app.
It is water resistant up to 30m. The only downside to the Polar M400 in its design is that both the USB port cover and the strap seem fragile as they are made of a kind of plasticized rubber (it is clearly replaceable).
Features
The Polar M400 watch works as a fitness bracelet and as an activity tracker. As being one of the best fitness watches for runners you can wear it non-stop and it tracks your steps or sleep: unlike many bracelets, it even works automatically when you go to sleep. When paired with a smartphone via bluetooth it sends inactivity alerts to the phone to get you up and going.
If we press the central button of the clock we enter a menu of possible fitness activities. We choose an activity, press start and the GPS signal of the watch, and all the heart rate data if we have a compatible strap on will be recorded until we stop it. In the activity choice, it allows you to select a list of "sport profiles", which also appear on the Polar Flow website. There are many profiles (running, cycling, aqua-fitness or even Yoga).
Depending on the sport we choose, we will see different types of information (it can be modified through the Polar Flow website) and we will be able to keep a diary of our workouts and personalize them.
On the watch itself, you can take a 15-minute "fitness test" that gives you a very precise measurement of your V02 max (maximum amount of oxygen that your body can absorb) and you will get a score at the end of each run for your performance.
It's resistant up to 30 meters underwater but you can't monitor your heart rate, something the Polar V800 can do.
Application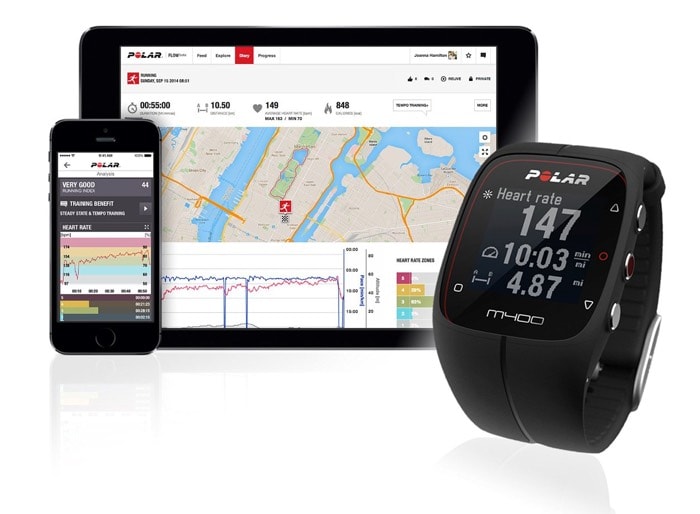 Polar has decided not to make it as "social" as Fitbit or Nike, but even so, it is a really useful tool if we link it to the Polar Flow web service.
The Polar App presents the data in a simple way and shows us our daily activity through maps, graphs etc …
In the application (and on the website) we can consult an activity monitoring diary, which allows you to see maps, graphs or heart rate. There are also summaries of the sport performed or the amount of calories expended per activity.
Its strong point is the possibility of customizing your workouts, being able to perform interval training and create profiles for each sport.
Main functionalities of the Polar Flow app:
Activity monitoring 24/7
Daily goals with prompts
Activity time, calories burned, steps and distance.
Learn more about your sleeping habits
Receive inactivity alerts
Get a quick summary of workouts
Progress with summaries in the weekly calendar
Get even more detailed information when you are training with a Polar H7 HR Sensor
Performance
The performance is excellent. The GPS signal is always clear even in places with less coverage. If we add the Polar H7 strap to that, the pack is perfect. Bluetooth connectivity doesn't fail either.

It is capable of measuring steps, GPS and heart rate in a very precise way, which combined with the possibility of using it in the water, interval training or the customization of sports profiles, make this watch one of the best GPS watch for running and cycling, and that too on a budget.
It only lacks the support for accessories for cycling, route navigation or monitoring the heart rate in the water, present in devices twice as expensive as this Polar M400 watch.
The battery life is 8 hours with GPS activated and 20 days with GPS deactivated, a very reasonable duration: you can spend up to a week without charging the device.
Conclusion
Should you buy this training watch? If you are going to use it with multiple sports, clearly yes. It has a combination of fitness bracelet and GPS watch features that make it second to none right now. All this at a really reasonable price. Hope you find this Polar M400 GPS running watch review useful.