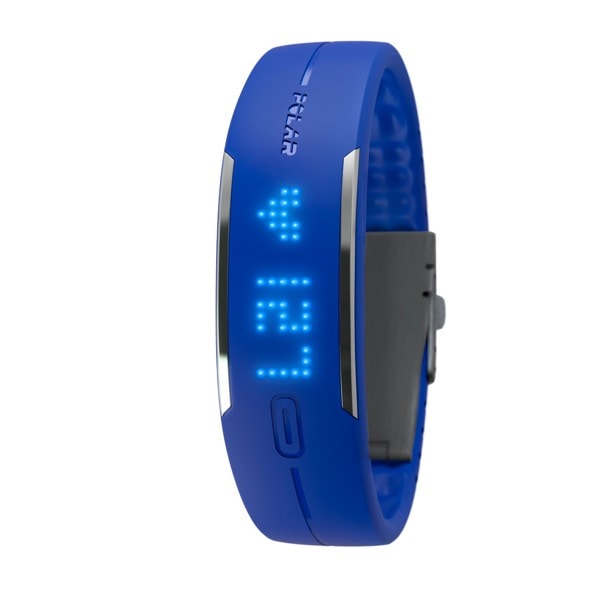 Thinking of buying a bracelet that measures your daily activity? There are a few options on the market today, but one that has always stood out for its good features has been the Polar Loop.  This fitness bracelet can track your sleep and all the steps and movements you make during the day. In this Polar Loop activity tracker review, let's discuss everything good and bad about the top rated fitness tracker band.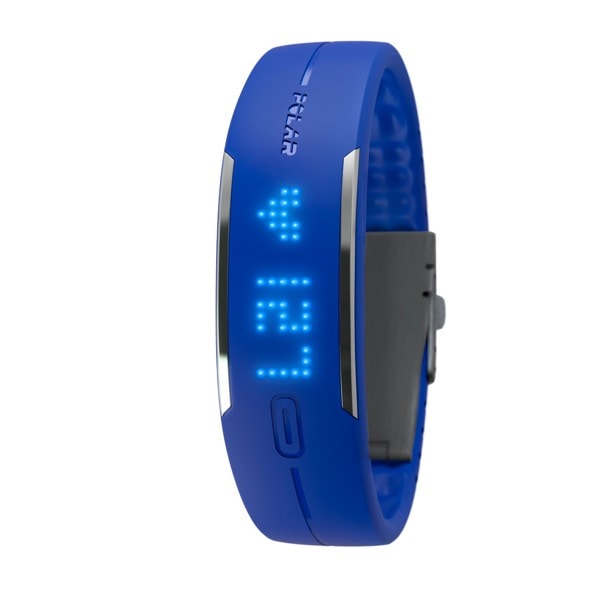 Specifications
LED screen

Screen texts in English

Low battery indicator

Rechargeable battery with USB cable (90 minutes)

25 mAH lithium polymer battery, rechargeable, not replaceable.

Battery life: 5 days of continuous use

Submersible – WR20 (20 meters)

Weight: 38g

Ancho: 20 mm

Circumference: Min.

145 mm – Max.

240 mm

Manufacturing materials: Front plate and bracelet (Polyurethane);

Center plate decorative parts (ABS + galvanized)

capacitive touch button

Available in blue, purple and black
Salient Features
Activity Guide: Helps you stay active all day

Activity Benefit gives you feedback on your daily, weekly and monthly activity

Shows daily activity, calories burned, steps taken and time of day

Free directions with the Polar Flow app and the Polar Flow web service

Compatible with Polar Bluetooth Smart HR Sensor H6 and H7

Compatible with Windows XP, Windows 7, Windows 8 and later PCs

Compatible with Mac OS X 10.6, OS X 10.7, OS X 10.8 and later

Apps for iOS smartphones (iPhone)

Measure activity even when swimming (without heart rate sensor)
Web Services
Analysis of our habits

Daily, weekly and monthly information on your activity

Daily activity tracking at five intensity levels: resting, sitting, low, medium and high activity.
Polar Flow App
Track daily progress and prompts to achieve daily activity goals

Quantity and quality of sleep

Bluetooth Smart Sync
Polar Loop Activity Tracker Review
Polar is a company that has specialized in heart rate monitors, so it is not a surprise that they launched this fitness bracelet. The Polar Loop is Polar's first attempt at a pedometer wristband.
This rubber bracelet has an LED screen so bright that we will be able to use it in direct sunlight. It has a three-axis accelerometer that will carry out an exhaustive monitoring of our steps, distance and calories.
It monitors all kinds of exercises, and it is water resistant (20 meters), so it can be used for swimming. Polar also makes a heart rate monitor that is designed to work in conjunction with the Loop, but you have to buy it separately.
Functioning
When we buy the Polar Loop we will have to adjust our weight, height, age, gender and physical intensity to calculate the number of calories burned. It has a memory of up to 12 days during which we will not have to synchronize the bracelet with the computer. The functioning is very easy and that's what makes it one of the best fitness band for beginners.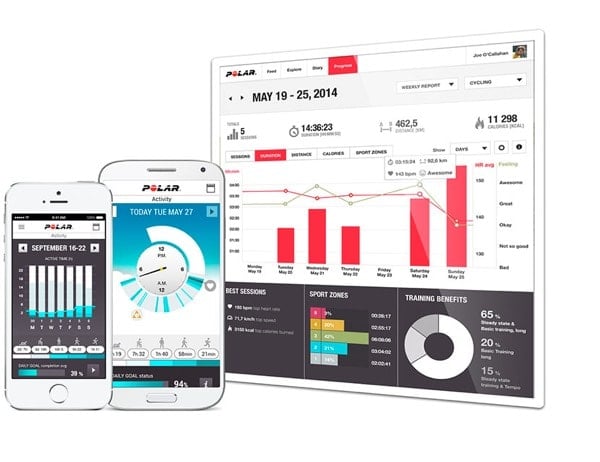 The mobile app (Android, iOS) provides activity information with different types of graphs. We will be able to synchronize the data from this bracelet with the application or there is also a web platform – Polar Flow – that we will be able to use to see our status and activity data. The Polar Loop wristband uses a USB cable and Bluetooth connectivity to sync information with the mobile app (Bluetooth) or the web platform (USB).
Battery life is usually about 5-6 days. You need to connect the USB port on the inside of the bracelet to the computer to charge the bracelet.
Activity Tracking
Polar Loop tracks our daily activity by classifying it into five intensity levels: resting, sitting, low, medium and high. The higher the intensity, the faster you achieve the goal.
"UP" indicates low intensity, "WALK" indicates medium intensity, and "JOG" indicates high intensity. 
Through the notifications you will be able to know what rhythm you have to follow when you walk or run to reach a certain goal. If searching for the best activity tracker for seniors and elderly, you can still consider getting this fitness band.
Lackings
The Polar has some drawbacks. It doesn't have an altimeter, so it won't be able to measure how many flights of stairs you climb each day. In addition, the screen does not offer us the measurements immediately, but with a 30-60 second delay before showing new data. In order to fit the bracelet to your size, it is necessary to cut it based on the measuring strip provided. To adjust the bracelet to your wrist size, you need to measure your wrist and cut the bracelet. A bit risky, but Polar knows this and promises to replace the bracelet in case of an accident. You also have to be careful with the excessive use of bluetooth as it can easily drain the battery. 
Conclusion
The Polar Loop isn't the perfect fitness tracker, but it comes pretty close (it just needs to be able to count the flights of stairs we climb). It has an attractive design and an LED screen with very good visibility and its activity tracking is really good in combination with the data that the applications and the web service will show us. That it is submersible to 20 meters is an incentive. We hope you find this Polar Loop activity tracker review useful and informative.