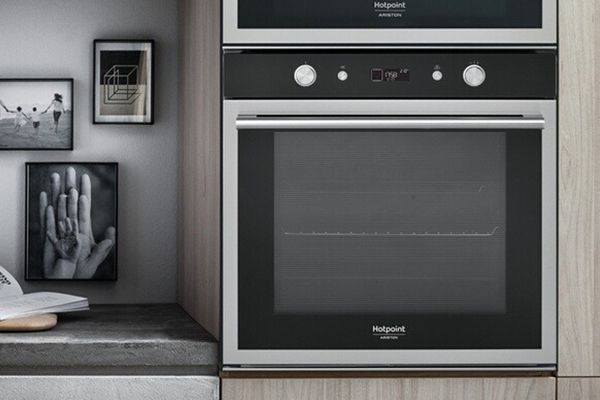 The Best Built-In Oven 2022
After 11 hours of research and analysis of 20 models, the Sauter SOP 5764X appeared to us to be the most interesting solution at the moment.
Without being absolutely revolutionary, this multifunction oven stands out for its ease of use. It offers seven rather classic cooking modes, but also a very practical cooking assistant, which allows you to benefit from automatic settings on no less than 35 different preparations. These are divided into eight categories, corresponding to an already varied daily cuisine. With good cooking performance, it also benefits from cleaning by pyrolysis, in three intensities including an Express function.
Easy to use and complete with a handy cooking chart, this oven is perfect for beginners in the kitchen. The settings are made via two mechanical knobs while the electronic programmer is used to start the timer and to program the cooking time, with or without delayed start. The appliance also has telescopic rails on two levels, allowing you to quickly check the cooking of your dishes or take them out of the oven without burning yourself.
In addition to this Dual Cook technology, the NV75N5671RS offers a two-door opening system, which is rather practical since it allows you to open either the entire oven cavity or only the upper part of the appliance. In total, this model offers 17 cooking functions, combining natural convection with hot air and broiling. For beginners in the kitchen, the cooking assistant with its 50 pre-recorded recipes is particularly interesting.
Thanks to this assisted mode, you can step out of your comfort zone and get started more easily in the baking of various breads, pizzas and cakes. He even advises you on the shelf height to choose for placing your preparation in the oven. This does not prevent you from adapting these settings, to add your personal touch to your recipes. Ultimately, this fan-assisted model is perfect for cooking enthusiasts, neither beginners nor pros.
Ambitious and innovative, this oven offers 11 classic cooking modes and benefits from the presence of a cooking assistant that accompanies you in the preparation of approximately 80 dishes (divided into 10 distinct categories). It also offers a very comprehensive range of functions, such as keeping warm, reheating the plate, dehydrating or cooking pizza. Modern, it can also be controlled remotely via the Samsung Smart Home application.
our selection
Honorable mentions
EssentielB EFMP 104i (499 € at the time of publication): A model for large families. With its large volume of 72 L and its five shelves, this oven is ideal for large families or cooking professionals. Its nine cooking modes (including rotating heat) make it easy to alternate between baking pies, pizzas, but also meat and fish. It also benefits from the very practical cleaning by pyrolysis. Simple to use and backed by a three-year warranty, it's our third mid-range choice.
Bosch HBG672BS2 (€ 856.69 at the time of publication): A good alternative in its category. This 73 L oven offers eight cooking modes and the CookAssist, a cooking assistant that helps you prepare your dishes using pre-recorded recipes. It is cleaned by pyrolysis, adjustable over three different times depending on the level of soiling in the oven. Appreciated for its elegance, on the other hand, it seems to lack a little intuitiveness in its operation.
How to choose your built-in oven?
Built-in ovens are now an integral part of most fitted kitchens. However, depending on eating habits and the level of cooking expertise, not everyone has the same needs. There are currently so many different types of ovens that it is not easy to choose.
As most of the models on the market are multifunction ovens, we started by distinguishing between different cooking methods that you can find on these. Do not hesitate to consult the user manual of your oven to identify which pictograms are associated with it.
Natural convection (static heat)

: it uses resistances located on the upper and lower parts of the oven, which heat the central part. Cooking is only possible on one level and takes longer. You can choose to use only the top heaters (to finish baking a cake topping) or the bottom heaters (for a double boiler or a pizza base), or both at the same time (to raise a dough or bake a more fragile preparation, which would not withstand the air flow of the fan).

Forced convection (stirred air)

: this cooking method is similar to natural convection, but you also benefit from ventilation on the back of the wall to distribute the hot air throughout the oven. In this way, the temperature is more homogeneous and it is then possible to cook on several levels.

Circulating heat (forced air)

: in addition to the top (top) and bottom (bottom) resistances, it activates an additional circular resistance, placed on the rear wall of the oven, at the fan. This system increases the speed of heating within the cavity and ensures even more homogeneous cooking. It is certainly the most versatile mode.

The grill

: these are additional resistances located on the roof, intended for roasting and the preparation of gratins. This mode is generally adjustable on several intensity levels and can be coupled with fan heat.

Steam

: the presence of a water tank allows steam to be injected into the oven during cooking. Known for better preserving food nutrients, this mode can be used in two ways: either in 100% steam cooking (allowing the absence of fat), or in addition to another cooking method (the addition of steam preventing your preparations from drying out under the effect of heat). If the subject interests you, we have dedicated a specific comparison to these

combination steam ovens

, but be aware that this type of device is more expensive.
Several processes from cleaning are also possible. The most common ones are:
Pyrolysis

: projections of fats and sugars are reduced to ash by being subjected to a temperature of up to 500 ° C. This operation lasts 1 to 2 hours and must be started after cooking certain dishes. The manufacturers recommend repeating the operation every month for normal use. The process can be bothersome in terms of odors, but is very effective. Note that some ovens offer intelligent pyrolytic cleaning, which adapts the duration of the program to the degree of soiling in your oven.

Catalysis

: this is the second most frequent cleaning method. Fat projections on the walls are destroyed during cooking, when the temperature exceeds 200 ° C. All you have to do is remove the residue with a damp sponge after the appliance has cooled down.
Other characteristics will allow you to refine your initial selection:
Utilisation facility

: most ovens are equipped with a control screen allowing you to view the settings. These are done via a tactile control panel or equipped with mechanical buttons and dials. In all cases, the use must be intuitive. The presence of telescopic rails makes it easier to access your preparations without the risk of burning yourself.

Additional features

: in addition to the classic cooking modes, some models also offer a specific setting for baking bread and / or pizza, but also a defrosting mode. The presence of a Booster can be useful to accelerate the preheating of the oven. Some high-end appliances have a cooking assistant (suggesting which settings to choose according to the dish or food) and / or automatic programs.

The dimensions of the oven

: logically, the dimensions of the oven must be adapted to the available dimensions of your fitted kitchen. Note that if you do not have the necessary space to accommodate an oven, some high-end models of

microwave

offer a highly developed oven option. There are also

mini ovens

.

Energy consumption

: as with any household appliance used almost daily, you must not neglect the energy record of your appliance. Although these data are theoretical, it is better to choose a model that consumes less energy.

Security

: a child safety system with locking the door and / or the controls is always welcome. Some models are also equipped with a door insulation system, ensuring that it stays cool despite high internal heat, to prevent burns.