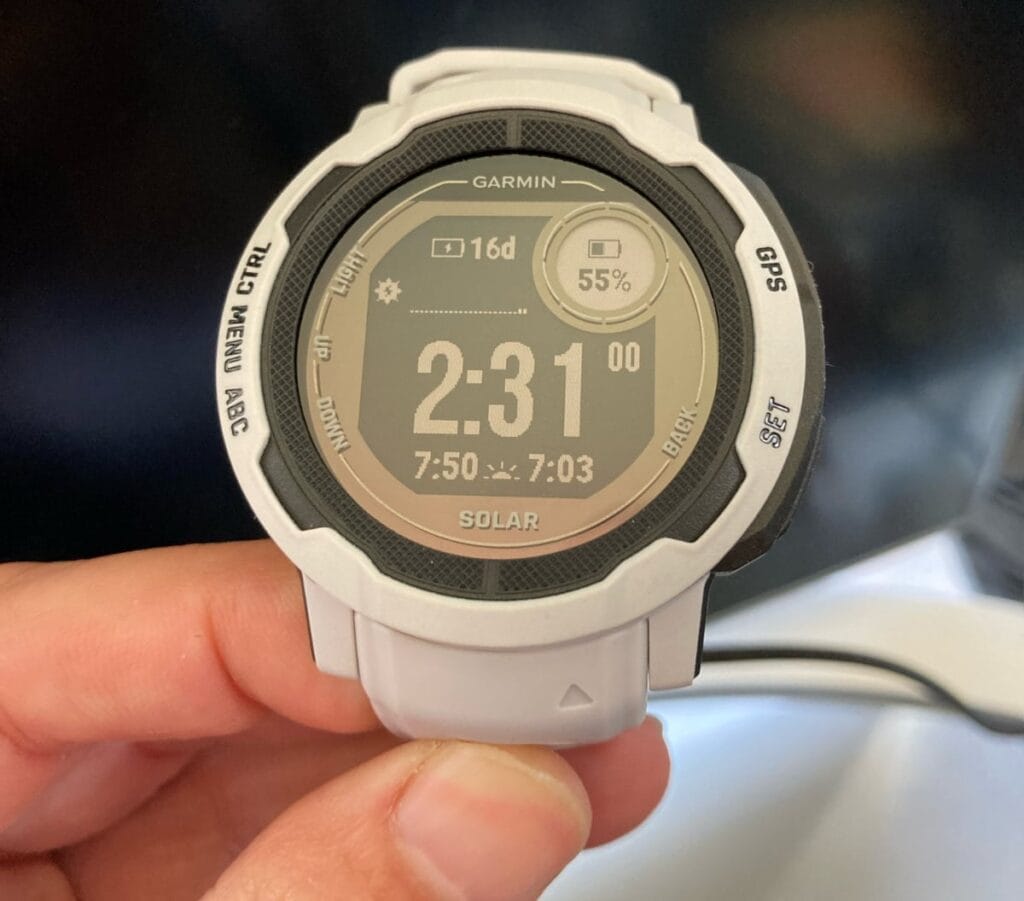 Garmin has just launched the second version of one of its most interesting sports watches, the Garmin Instinct. For a few weeks we have had the new Garmin Instinct 2 with us, and as happened with the previous one, they have released a good number of versions, for all tastes. We will first review what options are available and then move on to our Garmin Instinct 2 review that we have been tested.
The new Instinct 2 models may look the same to you as the Garmin Instinct, and they may look the same, but there are so many surprises inside that you'll think Garmin is kidding. If before the Instinct was the perfect watch for hiking and outdoor activities, now the Instinct 2 has become a spectacular multisport watch (for triathlon).
You can now consult training or recovery status statistics, enjoy Garmin Pay (solar edition), pregnancy or menstrual cycle monitoring, and it has full support for the ConnectIQ application, which offers us a multitude of apps, widgets, screens for the watch… And this is just the tip of the iceberg. Then we analyze it in detail.
And best of all, the sensors you find inside are practically the same as those offered by Garmin's Fenix ​​series, whose models are much more expensive.
More things? Solar models offer infinite charging, come on, if it gets enough sun (with 3 hours a day outdoors and 50,000 lux), you won't have to charge it via cable. This did not happen with the first generation Solar Instinct, whose maximum was approximately 25, 30 days.
Garmin Instinct 2 Versions
The first thing you need to know is that there are two different case sizes: 40mm (Instinct 2S) and 45mm (Instinct 2). You can buy the Solar watch or not, but we'll tell you in advance that it's worth getting the larger 45mm Solar (if your wrist allows), to get the best battery life of all the available models.
Then you will have to select the edition that interests you the most:
Standard:

The normal version in many colors.

Camo:

Special camouflage design.

Tactical:

With night vision mode, a stealth mode, GPS with dual position format, memory wipe, parachute jump or tactical activity.

Surf:

With tide data, surf activity, surfline, windsurf or kitesurf

Dēzl (for truckers):

With training sessions designed to fit into standard break times, pairing with a dēzl series truck navigator.
All versions have different colors. Right now the solar standard is offered in 3 colors: black, gray and blue and the normal in black and lime green.
Differences between the versions? Garmin adds model-specific software options that don't appear on the other models. For example, in the tactical version they have added a night vision mode, a hidden mode, GPS with double position format, parachute jump or tactical activity. These models are somewhat more expensive.
You might think that the Instinct 2S version is cheaper than the 2, but no. They cost the same.
We have tested the Instinct 2 Solar version in gray (it looks white) . eye! We have been testing the watch for 1 week, so the analysis will grow over the following months, completing the review with more data and more tests on the ground.
We have included the Garmin Instinct 2 Solar in several of our lists:
Garmin Instinct 2 Review
Garmin Instinct 2 Solar: Features, Design, and Build
Right now you can find discounts between 5% and 10% on some of the Instinct 2, Instinct 2 Solar models on Amazon.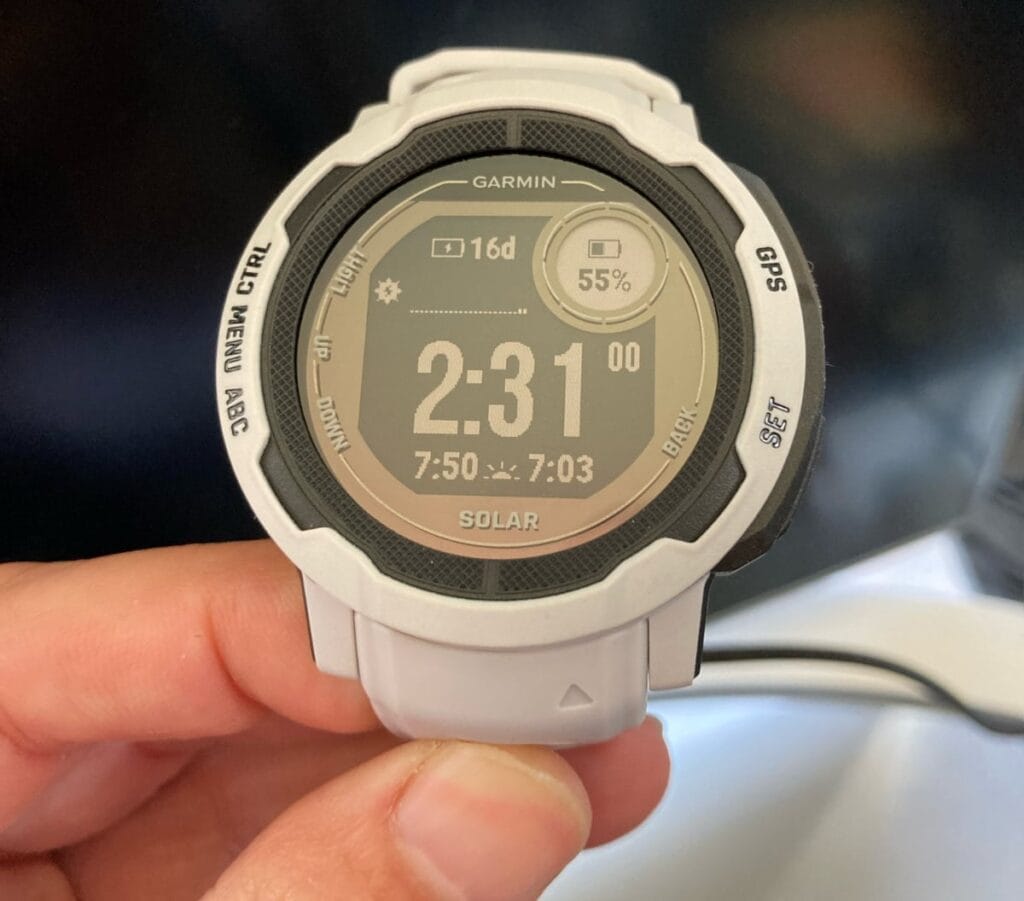 ---
FEATURES

LENS MATERIAL

Power Glass (Corning Gorilla)

BEZEL & CASE MATERIAL

fiber reinforced polymer

QUICKFIT WATCH STRAPS

Yes (22mm)

STRAP MATERIAL

Silicone

HOUSING SIZE

45 x 45 x 14.50 mm (fits wrist circumference 135-230 mm)

SCREEN SIZE

23 x 23 mm

SCREEN RESOLUTION

176 x 176 pixels

SCREEN TYPE

Monochrome, sunlight viewable, transflective with memory at the pixel level (MIP)

GPS

GPS, GLONASS and Galileo

SENSORS

ABC sensors

MAXIMUM OXYGEN CONSUMPTION (VO2 MAX)

Yes

PULSE OXIMETRY

Yes

HEART RATE SENSOR

Yes

SLEEP TRACKING

Yes

BODY BATTERY ENERGY MONITOR

Yes

WEIGHT

53 grams

BATTERY AUTONOMY

Smart watch: up to 28 days/unlimited with solar charging




Power save mode: up to 65 days/unlimited with solar charging




GPS: up to 30/48 hours with solar charging




GPS at maximum battery use: up to 70/370 hours with solar charging




Activity Expedition GPS: up to 32 days/unlimited with solar charging

WATERPROOF

10 ATM (100 METERS)

SHOCK RESISTANT

YES

MEMORY

32 MB

TRAINING

HIIT training;

Recommendation trainings;

Recovery control;

Mountain biking dynamics;

Running, cycling, swimming, strength training, indoor climbing, virtual running, golf, yoga and many more

EXTRAS

Garmin Pay, Garmin Connect, Connect IQ store, Incident detection, Notifications, Tracback routes, Stress monitoring, Intensity minutes, Menstrual cycle or pregnancy monitoring, Physiological age.
Then we will comment on what all its functions are. For now you just have to keep the following to get a good idea of ​​how things have changed with this second version of Solar Instinct 2.
Garmin Instinct Solar vs Garmin Instinct 2 Solar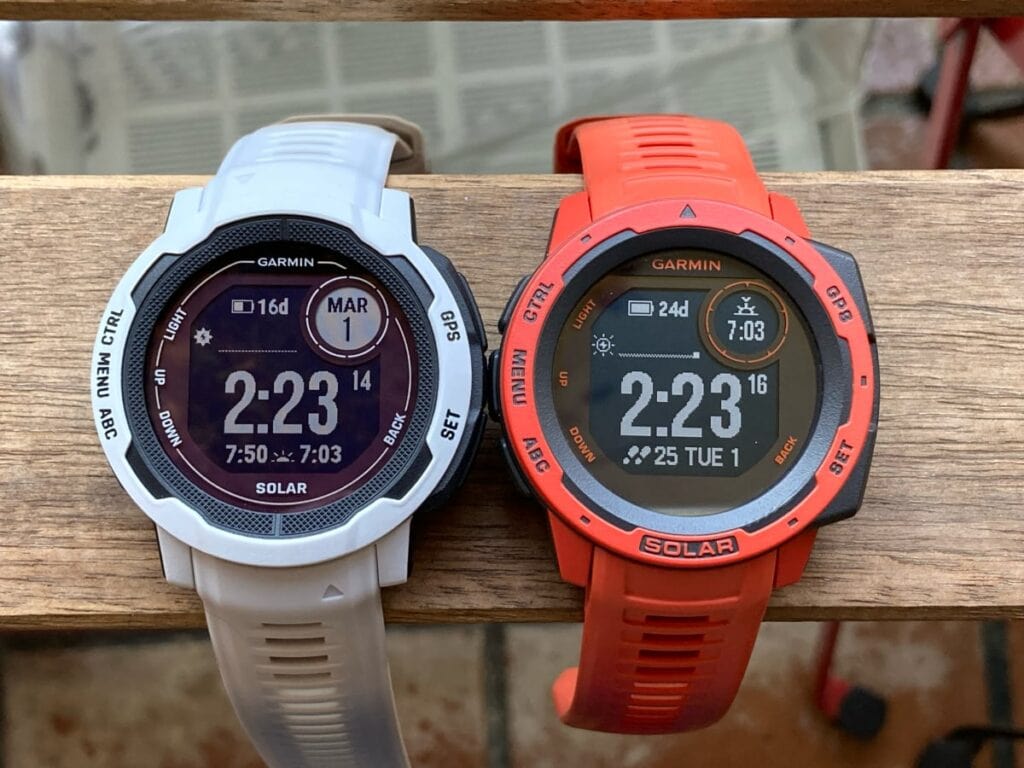 The Instinct 2S is designed for small wrists (40mm case) and only weighs 43 grams compared to 53 grams for version 2.

It has increased from 126 × 126 px resolution to 176 × 176 px on the Instinct 2, and 156 × 156 px on the Instinct 2S (you can tell, the digits are sharper).

Battery life has been moved to "infinite" on solar models (Model 2 Solar gives you more battery life in more situations than Instinct 2S Solar).

You have to put the watch outdoors 3 hours a day and with a sun amount of 50,000 lux.

The watch has inside the new Garmin Elevate Optical Heart Rate version 4 sensor.

The charging port on the back has been moved: before it was on the right side and now it has moved to the bottom (the connector is the same).

The internal storage of the clock has gone from 8 MB to 32 MB (necessary for new apps, widgets, screens…)
When are you going to get unlimited battery life on solar models? Well, it depends if you have a 2S or 2 model. With the 45mm version 2 you have a better chance of never running out of battery. You have to put the watch outdoors 3 hours a day and with a sun amount of 50,000 lux (it is not very sunny).
| battery life | Instinct 2S (40 mm) | Instinct 2 (45 mm) |
| --- | --- | --- |
| Smart watch | 51 days with solar charge | Unlimited with solar charging |
| Energy save mode | Unlimited with solar charging | Unlimited with solar charging |
| Expedition GPS Activity | 105 days with solar charge | Unlimited with solar charging |
| GPS | 28 hours with solar charge | 48 hours with solar charge |
| GPS with maximum battery usage | 114 hours with solar charge | 370 hours with solar charge |
And they have added dozens of new features to their software:
Garmin Pay on solar models and dēzl edition.

Connect IQ to get watch faces, applications, widgets…

Smart Trainer, Multisport/Triathlon, Fitness Age, VO2Max Tracking, Heat & Altitude Acclimation, Recovery Time, Workout Suggestions, HIIT, Pool Heart Rate, Golf Support, Pregnancy & Menstrual Tracking, Sleep Score, blood oxygenation levels, mountain biking…
Will these software updates carry over to Garmin Instinct 1 models? NO. Garmin has said no. You're going to have to buy the Garmin Instinct 2 to be able to enjoy them.
The Garmin Instinct 2 Solar comes in a very small gray box with the watch on the cover. Inside we only find some instructions, the watch and the charging cable that must be taken care of (it is very expensive).
The watch comes with a sticker attached to the screen that shows us its possible options.
It has dimensions of 45 x 45 x 14.50 mm and only weighs 53 grams. It's very light. Might fit a little big on small wrists (that's what the 2S version is for).
The manufacturing material of the case is fiber-reinforced polymer, and that of the strap is silicone. The strap has quite a different feel to it than the first Instinct. It seems harder. It can be easily removed (Quickfit) and has dimensions of 22 mm.
The watch is again water resistant to 100 meters and shock resistant , but on the Garmin page they do not indicate anything that it meets the MIL-STD-810 standard . Well, we have no doubt that it will still be as strong as the first version.
The watch still has 5 buttons, 3 on the left and two on the right with the same functions as on the Instinct 1. The buttons have changed: the two on the right are larger. They are all less round and more rectangular. The pulsation is good.
The bezel design is similar, but on the left the feature names are closer together and the word SOLAR has moved onto the screen itself.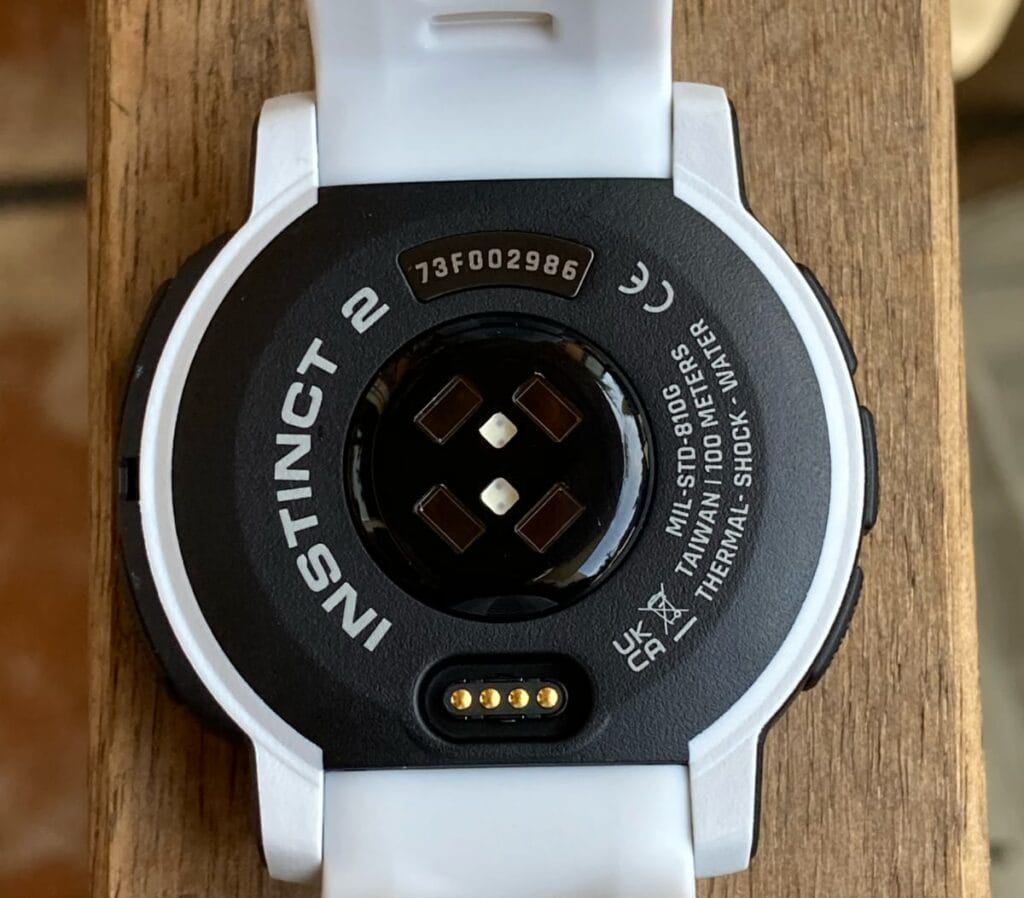 At the back we find the new Garmin Elevate Optical Heart Rate version 4 sensor and the charger pins at the bottom and not on the side as in the Instinct 1.
It is the same sensor that you can find in the Forerunner 945 LTE or Fenix ​​7. It is a top-of-the-range sensor: you will be able to control the pulse 24 hours a day, control the oxygen in the blood or the breathing rate.
To remove the strap quickly, you just have to press on one of the sides with a clip or something with a small point and the strap will automatically come out.
Screen? The design remains the same. Very characteristic with a small circle in the upper right, and the rest of the screen in the rest. But something important has changed: the screen resolution is now 176 × 176 px instead of 126 × 126 px. Noticeable? Well yes. You will see the digits better outlined, in more detail. It looks perfectly in the picture. It also has a great advantage. By improving the resolution, Garmin has been able to fit more information on the screen by being able to make the digit fonts smaller without losing readability. Then we see how to change the screens and download more designs.
The glass is a Power Glass (Corning Gorilla). If they had put sapphire in this watch, it would be great (to prevent scratches). But this type of glass, on the other hand, is very good at withstanding blows.
In the solar model we will clearly see the solar panel surrounding the screen, but actually the entire screen has solar cells, what happens is that the ones in the center of the screen are less efficient and that is why they are not visible.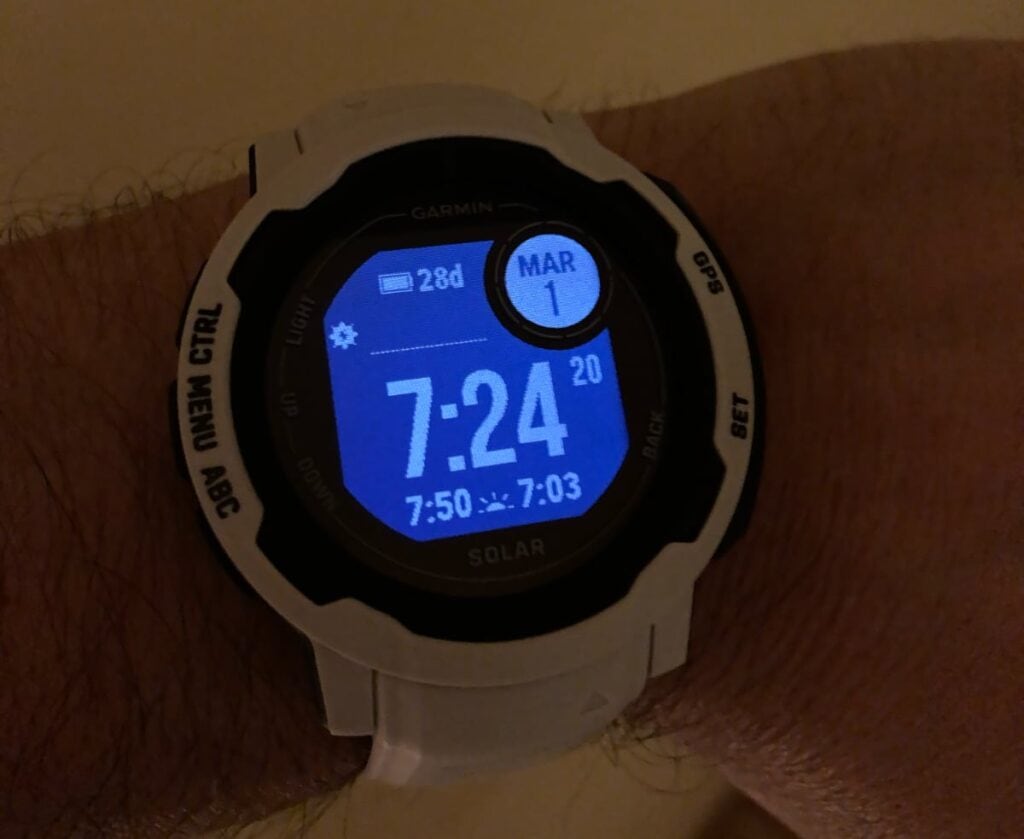 What is noticeable is a curious thing. In the dark, when we turn on the light, visibility is very good on the Instinct Solar 2, but only when looking at the screen head-on. As soon as we tilt the screen, 20, 30 degrees, the screen acquires a significant reflection, something that did not happen in the previous model. The funny thing is that it only happens in one direction: you tilt the watch "out" and the screen looks bad. You tilt the watch upside down… and it looks good. It's like they applied the polarization wrong. Curious.
Clock resistance? Doesn't the design of the watch remind you of a Casio G-Shock? Clearly, Garmin has gone after the G-Shock market segment with this model, and the truth is that they have done a great job. Why? The software is far superior to anything Casio offers at the moment. And it looks like this watch resists all kinds of bumps, scratches and falls. And by having improved the solar panel, they have gained many points against Casio. And I'm not telling you about the ability to add all the ConnectIQ apps.
If they could have improved the water resistance up to 20 ATM (200 meters). They have stayed again with 100 meters.
Garmin Instinct 2 Solar: How It Fits On The Wrist?
Well, the truth is that it is the best solar watch for your money that you never take off. It is very light with only 53 grams of weight. Fits well on a 18cm wrist (45mm case). And if you see that it is too big for you, go for the 2S model.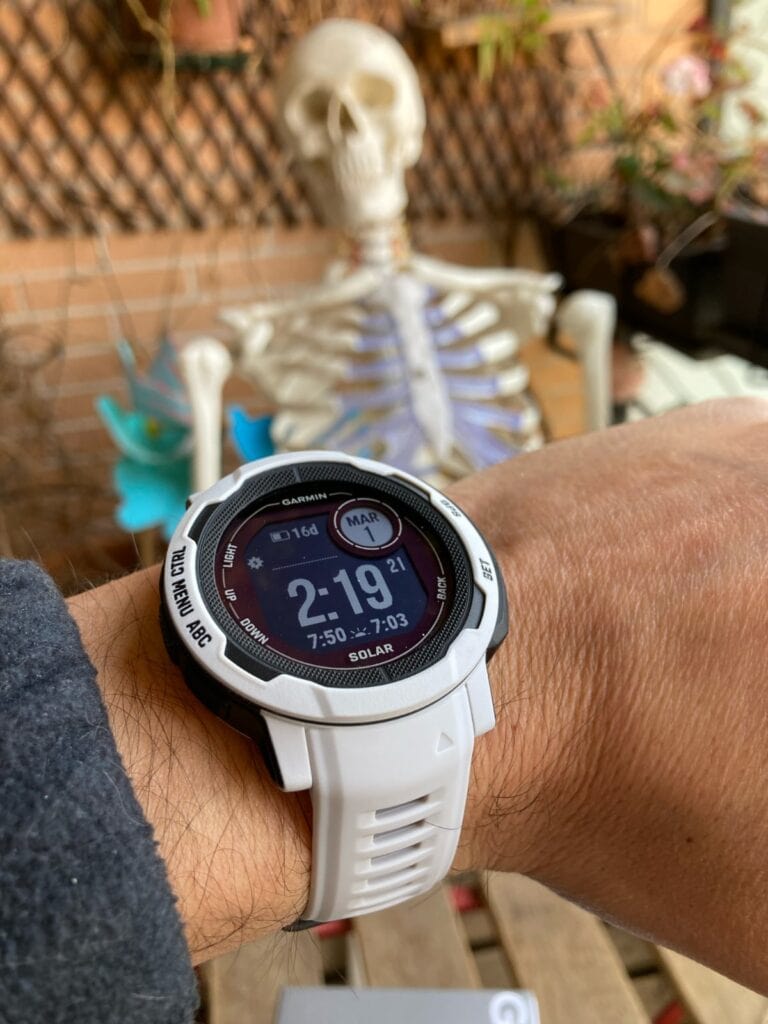 The strap is comfortable, but we like the first model better because it is softer. Maybe this one is more resistant. We will see with the passage of time. It has two buckles. The triangle tells you where to remove the strap.
Garmin Instinct 2 Solar Features
Impressive. If you liked the Instinct 1, the Instinct 2 is years away in terms of features. Garmin has added dozens of them, and they have made the Instinct 2 one of Garmin's most complete watches. You're only going to miss the Fenix ​​7's color screen and its maps, but I think we can get past those and get spectacular battery life and map-free route tracking. Also, it is much cheaper.
eye! The first thing you have to do when you turn on your Instinct 2 Solar watch is connect it to the Garmin Connect Gaming app (available for iOS and Android). The configuration process is very simple, and practically the same as the first model.
It will only ask us for a few extra things, such as configuring Garmin Pay (we can put our compatible credit card in the watch); It will also ask us to indicate our emergency contact for the incident detection function (the watch will contact that person in case something happens to us).
Incident Detection and Assistance:
Garmin Connect will send your name and location to your emergency contacts. Your location is determined by our LiveTrack activity tracking feature.
And it will ask us to download Garmin ConnectIQ to our smartphone to add many more things to the watch (now we see it).
In the Garmin Connect app you will be able to check the main daily statistics:
eye! You can also install Garmin Express on your Windows or macOS computer to update your device, manage apps, or upload track files to your watch.
FACT! Moving through the different screens of this watch is very simple:
If you press CRTL for a few seconds you enter the watch configuration menu: wallet, light controls, find my phone, save location, etc.

With the MENU and ABC button you go up and down through the menus.

If you press MENU for a few seconds you enter the menu to configure screens, sensors, security, telephone, navigation, health and well-being and system controls (language, time…).

With the MENU and ABC button you go up and down through the menus.

If you press ABC for a few seconds you enter the sensor menu: altimeter, compass and barometer.

With the MENU and ABC button you go up and down through the menus.

From the main screen if you press the MENU button and ABC you go up and down through the main data recorded by the clock.

If you press GPS for a few seconds, you synchronize the GPS (time and others).

If you lightly press GPS, you enter the sports and activities menu: the ones you have installed appear.

With the MENU and ABC button you go up and down through the menus.
We are going to see the main functions, starting with the ones that have changed the most or the main additions.
Solar Charge
One of the most notable improvements compared to the previous model. They have increased the efficiency of solar panels and also the energy expenditure of the clock itself.
It looks like this in this model:
Smart watch: up to 28 days/unlimited with solar charging

Power saving mode: up to 65 days / unlimited with solar charging

GPS: up to 30/48 hours with solar charge

GPS with maximum battery use: up to 70/370 hours with solar charge

Expedition GPS activity: up to 32 days/unlimited with solar charging
All this is true in the event that you use the watch 3 hours a day in outdoor environments with a brightness of 50,000 lux (not much). If you are in summer with good weather, it is possibly giving you double that amount.
This data is better than for the Instinct 2S model, but it is normal, since in this smaller model the solar panel is smaller (40 mm face vs. 45 mm).
At first, it is recommended to fully charge the watch with the included cable.
Garmin ConnectIQ
The Instinct 1 did not have this feature. The Instinct 2 does. And it is a great addition, because it gives us access to install new screens for the dial, widgets and apps on our watch.
As soon as we connect the watch to ConnectIQ we can add a large number of screens to the watch, some more interesting than others. For this model the most recommended are (all are free):
Battle of Garuda and Naga: beautiful.

It is not exactly the one that offers us the most information, but the illustrations are very striking.

Crystal: bizarre.

striking.

With more data on the screen.

Digital Dasboard: as if it were a digital clock.

Good amount of data.

Typography: Good digital clock design.
And here the complicated thing is one thing. How do we change the data that we can add to each screen? With the default clock faces we only have to hold down MENU > Clock Face, go to the one we like and change its preferences. But with the ones we installed that option does not appear. You have to go directly to the ConnectIQ app > My Device > My clock faces and change the preferences of the screen that we have chosen (then the clock will be updated through the bluetooth connection). We should be able to change the settings directly on the watch.
Then you can also add apps like Komoot (for cyclists: with routes and recommendations), Wikiloc (recommendations of routes for trekking), Pomodoro (productivity control through a timekeeper). You have many more.
Or Widgets that will show you special functions such as the weather with Accuweather, barcodes and many more.
Being able to customize your Instinct 2 with Garmin ConnectIQ is priceless… Will Casio implement a similar feature at some point?
Garmin Pay
Another great addition if you want to stick your card right into your watch. Just check if your bank supports this feature on the Garmin page below. In Spain are compatible:
Engineers Box: MASTERCARD

Engineers' Box: VISA

CaixaBank: VISA

Curve: MASTERCARD

Openbank: MASTERCARD

Open bank: VISA

Revolut: MASTERCARD

Revolut: VISA

Santander: MASTER CARD

Santander: VISA

Tarjeta YOU: MASTERCARD

TransferWise: MASTERCARD
We are not big fans of adding credit cards to these systems (such as Apple Pay or Google Pay). Why? Privacy issues that are not relevant in this review. But it's like putting all your eggs in one basket… What happens if Garmin gets hacked? They have a small amount of data about us, right?
We also don't have smartphone notifications turned on. We recommend you remove them to save the clock's battery and above all, to be calm while enjoying your real life. It is not necessary to be aware of everything that happens on your mobile every second.
Maximum Oxygen Consumption (VO2 MAX)

and Pulse Oximeter
Another great option that you will find in this watch. Very useful to know your state of health or simply to see how you recover from your exercise sessions or if you acclimatize to high altitudes or heat.
We have already mentioned it, this watch has a new sensor, the Garmin Elevate Optical Heart Rate version 4, the best of the brand. Super reliable. You can totally trust the data that the watch shows you thanks to this sensor.
As Garmin notes: " VO2 max is the defining measure of cardiorespiratory fitness and aerobic performance capacity. The ability to see your current fitness and track changes."
These options are also very useful for monitoring high intensity minutes, HIIT training and recovery processes .
Fitness level (VO2 max) combined with activity history information helps the watch calculate recovery times, tell you the perfect weekly training time (optimal training load), or see if you're acclimatizing higher temperatures or altitude.
Can we trust the Garmin sensor? It looks like it does, but more testing is needed.
Health Overview
Another option that you can add to your Instinct 2 is the "Health Summary". You stay still for 2 minutes and the watch takes care of collecting all the health data that may matter to you on a single screen. SpO2, beats per minute, stress level, heart rate variability and all its averages.
The heart rate monitor seems reliable , at least as reliable as the one in the first version. Everything will depend a lot on the placement on the wrist: you already know that you do not have to leave a lot of space between the back of the watch and your skin, or the sensor will not take good measurements. Also the clock has to be well placed and flat.
ABC Sensors, Tracback Routes,

 

and GPS
Before, it caught our attention. We had a watch with ABC sensors, an altimeter, a barometer to monitor weather changes, and a three-axis electronic compass. And now it seems to us the most normal thing in the world.
But Garmin has done a great job with these sensors, an experience similar to that provided by Casio Pro Trek watches. You only have to be careful of one thing. Proceed to the calibration of these sensors so that they give you the appropriate measurements. We have had to do it especially with the compass, which gave very strange values ​​at first.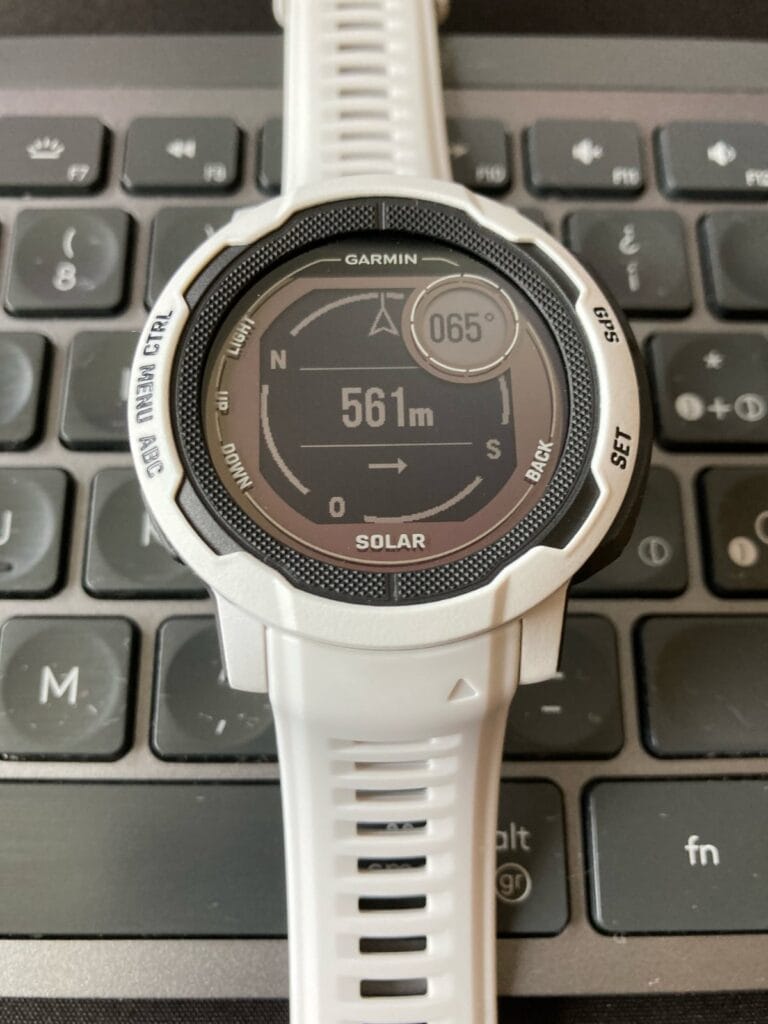 Also very interesting is the presence of tracback routes. What's this? You have the possibility to return to the starting point after you have recorded your initial route. It is possible that this watch does not have maps like those of the Fenix ​​series, but the indications that it offers us are perfect to retrace your steps.
With your Instinct 2 you will be able to follow a trail of breadcrumbs of the route that you have thought in advance (you can download route maps in Wikiloc), or you also have the option of direct navigation to the end point. Arguably, one of the best solar watch with GPS available on Amazon.
You will be able to do the following to get routes and import them to Garmin Instinct 2:
Import a .GPX or .TCX file using Garmin Connect's web import option (internet connection required).

Create the route yourself with Garmin Explore (you do not need an internet connection) or other apps such as Wikiloc or Komoot and synchronize them with the clock.

GPS offers good accuracy.

We are doing tests right now and we will publish them shortly.
Sports Functions: Triathlon and Multi-Sports
One of the great advantages of this Instinct 2 compared to version 1 is that they have added sports such as triathlon and many cycling options.
A short summary of all the options: Walk, Bike, Pool Swim, Hiking, HIIT, Track Me, Navigate, Tactical, Expedition, Project. wpt, area calculation, Trail running, Race, treadmill, Virtual race, Indoor track, Climbing, Indoor bike, MTB, eBike, eMTB, cyclo-cross, Gravel bike, Bike to work, Bike ride, Road bike, triathlon, Swinrun, Ski, Snowboard, Indoor Climbing, Block Climbing, Cross Country Skiing, Ski Mountaineering, Kayaking, Paddle Surfing, Rowing, Indoor Rowing, Strength, Cardio, Yoga, Elliptical, Stair Climber, Floor Climbing, Sailing, Fishing, Hunting, golf.
Just go to the Garmin Connect app and select the ones that interest you to install them on the watch. Fast and easy. You choose your favorites and place them where you want them to appear in the menu. You can also configure certain parameters of each activity and customize them.
And if you want to improve the control of your activities, the Garmin Instinct 2 can be paired with a multitude of external sensors. Just go to Sensors & Accessories (hold MENU for a few seconds) on the watch and add the ones you have available: VIRB, Tempe, RD Pod, XERO Laser Locations, inReach, Dogtrack, Trainer, External HR Monitor, Speed / cadence, power, pedometer.
As we test the different sports functions, we will publish the results in this post.
Is It Worth Buying the Garmin Instinct Solar 2?
If you like the first version of the Garmin Instinct, you will love the Garmin Instinct 2 Solar. The appearance may be quite similar to the previous model, but its interior has been improved by 100%.
With this model you will be able to have functions on your wrist that until now were only available in Garmin's top range, the Fenix, and all for a very reasonable price.
The Garmin Instinct 2 is the perfect choice for a multisport watch if you don't mind losing the maps (you can still track routes) or the sapphire crystal (but its glass is more shock resistant).
In return, the device will cost you much less and has infinite battery life on solar models by putting the watch in the sun for a few hours each day. They have upgraded the solar panels and they are now more efficient.
The addition of all those new sports, Garmin Pay, and the ability to install watch faces, widgets, and apps with Garmin ConnectIQ make this watch one of the best value for money right now if you want to buy a great sports watch.
And if you have a small wrist, you will be able to buy the Garmin Instinct 2S Solar model (40 mm). You're only going to lose longer battery life in some situations.
The only downside that can be put on this model is that when you are in complete darkness and you activate the light, the visibility is somewhat bad as soon as you tilt the watch about 30 degrees. It's like the polarizing layer is wrong. You avoid the problem by looking straight at the clock.
When its price drops a little in the coming months, it will be perfect, although now you can find good deals on certain models and colors. Hope you find this Garmin Instinct 2 review beneficial.