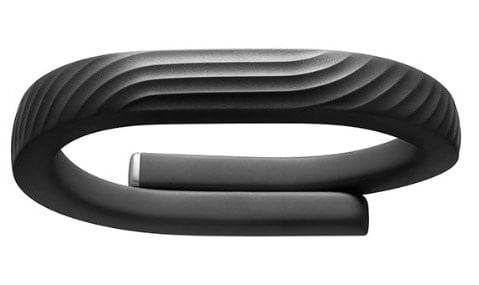 We have already done an analysis of several activity or fitness bracelets, such as the Samsung Gear Fit, Fitbit Charge, Polar Loop, Garmin Vivofit or the more specific activity monitor Garmin Forerunner 15, and today it is the turn of another of the great stars, the Jawbone Up24. In this Jawbone Up24 fitness band review, we will uncover all the info and details about the best fitness band on Amazon.
Specifications
Hypoallergenic TPU rubber strap

Splash resistant (do not submerge)

Synchronization via Bluetooth with Android and iPhone mobiles

Battery life: 14 days

Charge via USB in about 80 minutes

3-axis accelerometer

It has two LED lights of a color and vibrating motor that indicate power, charging status and current status

Sizes: Small, Medium and Large

Weight: 19, 22 and 23 grams
Features
Wireless sync for instant insights and notifications to help you progress through your workout

Sleep tracking: includes total hours, time until you fall asleep or times you wake up

Activity tracking: steps taken, distance traveled, calories burned, time active vs. inactive

Social: Compete against friends or family

UP Insight Engine: discover hidden patterns in your daily activities
Detailed Jawbone Up24 Fitness Band Review
If we compare this best fitness tracking wristbands with the Fitbit Charge or the Fitbit Force, the first thing that will catch our attention is that it does not have a screen like the latter (its weakest point), but in these times of smartphones and after Jawbone has Made this bracelet compatible with Android and not only with iOS, it always seems more convenient to look at our training data on the mobile screen thanks to the excellent application of the bracelet and its bluetooth synchronization with the device. Let's uncover more details in this Jawbone Up24 fitness band review.
Design

The Jawbone Up24 is a fitness bracelet that looks great on both men and women, and is also really comfortable and practically not felt on the wrist. It is very thin and its weight is around 20 grams depending on the size. Its manufacture in hypoallergenic rubber is a success as well as its design with waves.
With the Up24 you will be able to wash your hands or even take a shower, but it is better not to put it completely in the water (for example in the pool). It is held firmly on the wrist without the need for contact between the two ends, something that is very "cool".
As we have already mentioned, it does not have a screen to see the data it is collecting, but it does have a small point of light that indicates its status based on its color (a crescent or a star also appears). Does not having a screen make it less heavy than its competitors? Not really, just a few grams less than the Fitbit Force.
At one end of the Up24 is a large, flat, square button. By touching or holding down, we will change the various modes of the bracelet: we will go to sleep monitoring or simply confirm that the device is alert and powered. At the other end of the bracelet we will find a small 2.5 mm connector that is used to charge the device's battery through an included USB cable.
Functionalities
The Jawbone Up24 bracelet will provide you with measurements such as a pedometer: steps and resulting calories burned. Plus, you can log meals through the mobile app to keep track of how many calories you're consuming, and see if they're being wiped out by exercise.
But with the Jawbone application we will also be able to scan the barcode of the food to quantify the nutrition in a moment, something really interesting and comfortable. And it's one of the most accurate fitness tracker bands on the market.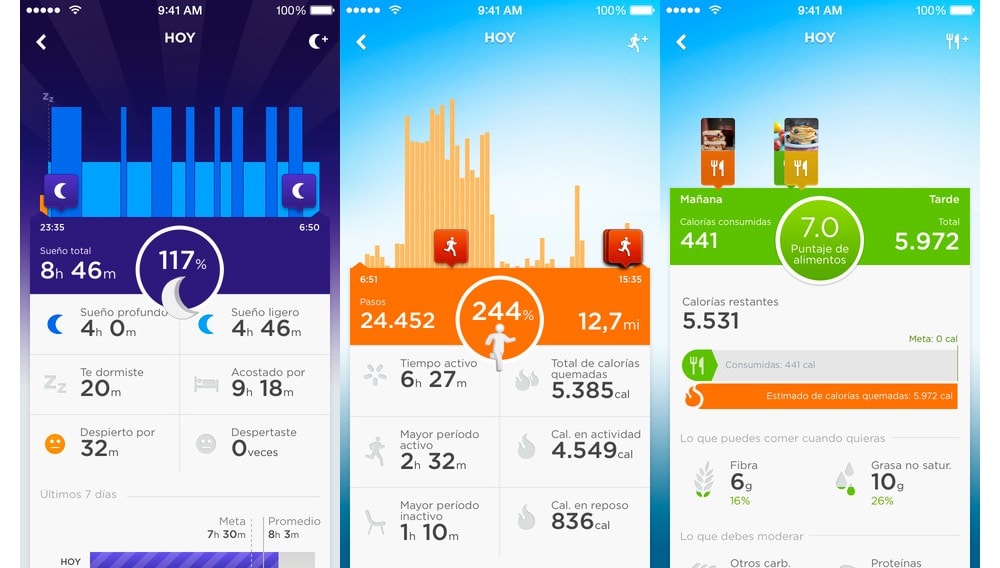 Obviously it is not going to do an exhaustive or excessively scientific monitoring, but for most users it may be enough. We will also not be able to see weight statistics or body fat percentage as in the Fitbit systems.
What we are going to be able to control very accurately is the quality of our sleep: how many times we get up, deep or light sleep, how long it takes us to fall asleep and we can even set ourselves alarms to wake up very pleasantly with a small vibration.
As for the synchronization, we are going to do it via Bluetooth, something that will be very comfortable to send all our data to the JawBone Up application on the smartphone, which will proceed to quantify our progress and generate goals according to them. Motivating us will be one of its main functions.
The application is excellent, both on Android and iOS and one of the great assets of this bracelet.
The battery life was initially only 7 days, but with the firmware update that we can find on its page it will rise to 14 days.
Conclusion
With a light and comfortable design, the Jawbone Up24 only has one drawback it does not have a screen, but it can be easily alleviated with the excellent application for smartphones that they have created. The Up24 is one of the best accuracy fitness tracker that we can find right now. Hope this Jawbone Up24 fitness band review will help you in making the right decision.