Do you want to know all the data of your daily races? Are you passionate about running and want to keep improving? We have already seen the best GPS watches for beginner runners, and today we are going to raise the level a bit, and we are going to recommend the best Garmin GPS watch for running to run your first marathon or your first 10km race, come on, for people who know takes running seriously, but also for beginners, who always have to start somewhere.
If you are starting to get serious about running and need better statistics and all the possible data to improve your running times, we have found the best Garmin GPS watches for running.
Best Garmin GPS Watch For Running Review
1. Garmin Forerunner 45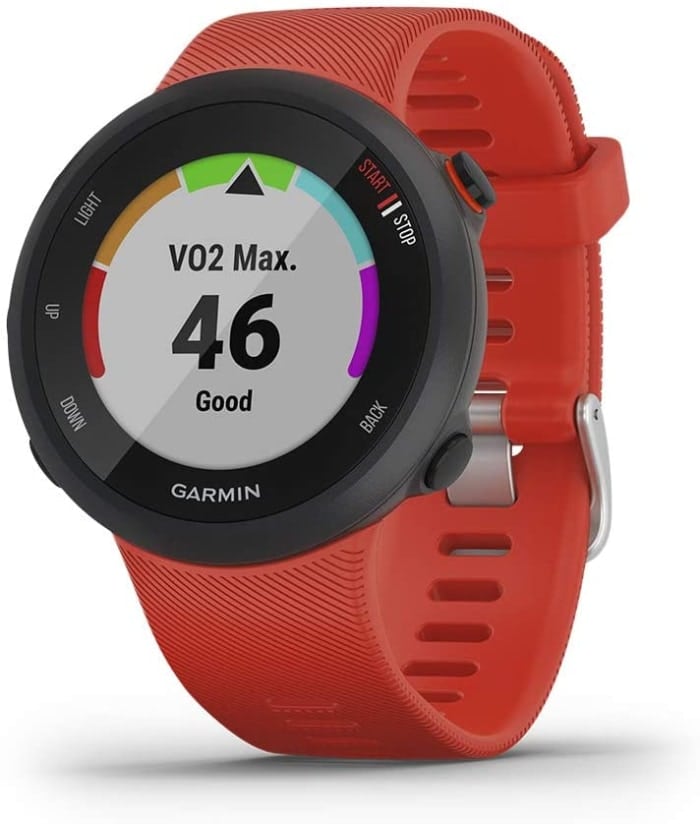 ---
Features a bright color display and a simple 5-button interface
Includes incident detection (during your activities) and assistance
Helps optimize your body's energy
Customize your training plans
Battery: 7 days in connected watch mode and 13 hours in GPS mode.
36 grams of weight
5ATM
Our first pick for the best Garmin GPS watch for running is Garmin Forerunner 45. A really cheap running watch with very good features. Your first step into the world of professional runners. Perfect to get started and know the main statistics of your workouts.
It's a really light watch (you won't even notice it on your wrist) that even has controls for your music, so you won't have to touch your smartphone again while you're running.
And it has GPS, GLONASS and Galilelo: a GPS of the most precise to always know where you are running. It also has a heart rate monitor, sleep tracking, VO2 Max, and an estimate of your body's energy. Spectacular.
It is perfect for running, and not so much for other sports. So if you are on a budget and looking for the best cheap garmin running watch, get this one.
2. Garmin Forerunner 245 Music
---
The successor to the Garmin 235: perfect for running, cycling, swimming and cardio. It is the natural evolution for those who want to record more statistics for running.
It has VO2 Max measurement, so it is perfect to know if you are recovering quickly from your training sessions and when to try your best again.
This best garmin GPS watch for trail running also stands out for having the PacePro function, which uses GPS data to accelerate your run to achieve the desired final time.
And all this accompanied by your best music transferred directly to the clock (up to 500 songs) or with your Spotify playlists. It can be used with your bluetooth headphones.
The battery lasts about 7 days. The only thing missing is an altimeter.
3. Garmin Forerunner 645 Music
---
30.4mm (1.2 ″) diameter
42,5 x 42,5 x 13,5 mm
Fits wrists with a circumference of 127-204mm
Battery: Smart watch mode: up to 7 days; GPS mode without music: up to 14 hours; GPS mode with music: up to 5 hours
5ATM water resistant
Made of stainless steel and with Corning Gorilla Glass 3 glass
Con GPS, Glonass
Heart rate monitor, step counter, calories and sleep monitor
Altimeter, barometer, brújula, thermometer …
Play music and offer smart notifications
Training sessions and VO2 Max
Running profiles and point-to-point navigation
Cycling and swimming profiles available
If you want a smartwatch that is also a complete sports watch, this Garmin model is the one.
It has all kinds of sports profiles, GPS, step control, heart rate monitor, sleep control and everything that typical activity bracelets have plus advanced control in training sessions and VO2 Max (something that always comes in handy for running) .
It can store up to 500 songs and support for Spotify. Of course, you have access to Garmin Connect, tremendous battery life, and notifications.
You can't ask for much more if you want a smartwatch with all possible sports functions.
4. Garmin Fenix ​​6 Pro
---
There is nothing better that money can buy. That means that it is a really good watch to monitor your sports activity, but you are going to have to pay a high price for it..
You can choose any of the 6 series models, possibly the 6X Pro model is the most …
With this model you can save your activity by doing any sports activity you can imagine, including running.
It has a GPS and a heart rate monitor that works even in the water. The battery life is tremendous, it is a big thing but very well made.
You have to think very well if you really need it or if you can opt for one of the cheaper Garmin models. One of the best budget Garmin running watches on the list.
5. Garmin Forerunner 220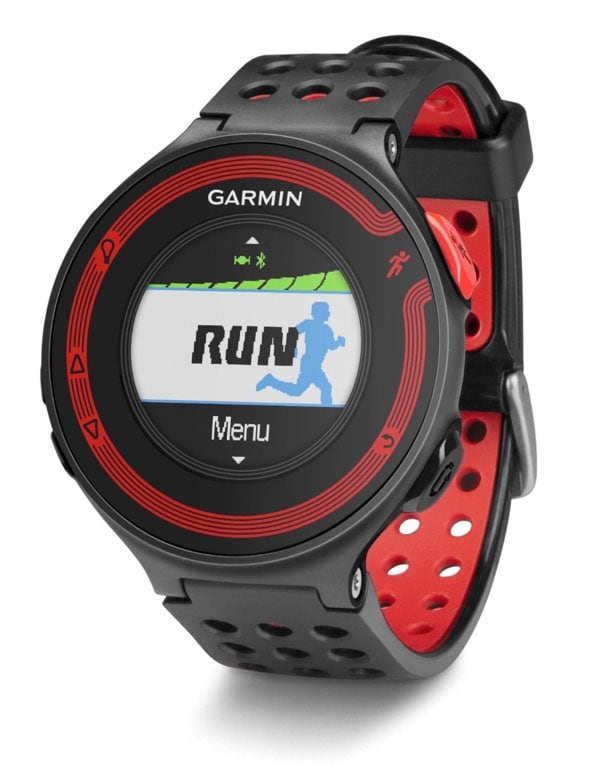 Aside from a high-resolution color screen, the main improvement you get when you buy the Forerunner 220 is access to a full range of training tools on Garmin Connect. Of course, you still have the basic measurements like distance, pace or heart rate (with a chest strap) but now they are combined with things like marathon and half marathon workouts to take your performance to the next level. The Garmin Forerunner 220 is priced at about 169 euros.
You can also control your own training plans. You can create custom training calendars, individual workouts or interval sessions and wirelessly sync your watch. The treadmill and indoor racing are also covered thanks to a built-in accelerometer and it has a real-time online tracking function to follow your runs. A perfect purchase for someone on the quest for the best Garmin GPS watch for running and cycling.
Perfect for:
GPS distance
Real time rhythm
Heart rate tracking
Live tracking
Automated social functions.
Marathon training plans
Wireless data synced with Garmin Connect
6. Garmin Forerunner 225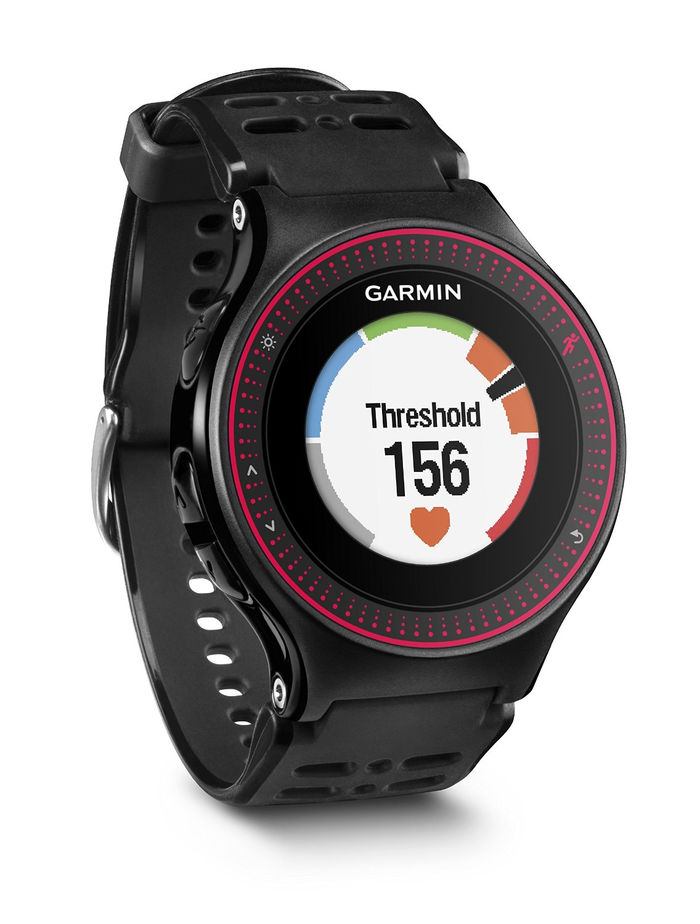 It's basically the same as the Forerunner 220 but with an optical heart rate sensor on the wrist. The model 225 covers all the aspects that the 220 offers us but directly adding a very interesting function, the control of our pulsations. It's a bit bulkier than its cheaper sibling and while wrist heart rate tracking isn't as accurate as with a chest strap, it's much more comfortable. Its price is around 280 euros.
Perfect for:
Heart rate monitoring without the need for a chest strap and use of training zones based on your pulse.
GPS distance
Rhythm
Live tracking
Automated social functions
7. Garmin Forerunner 620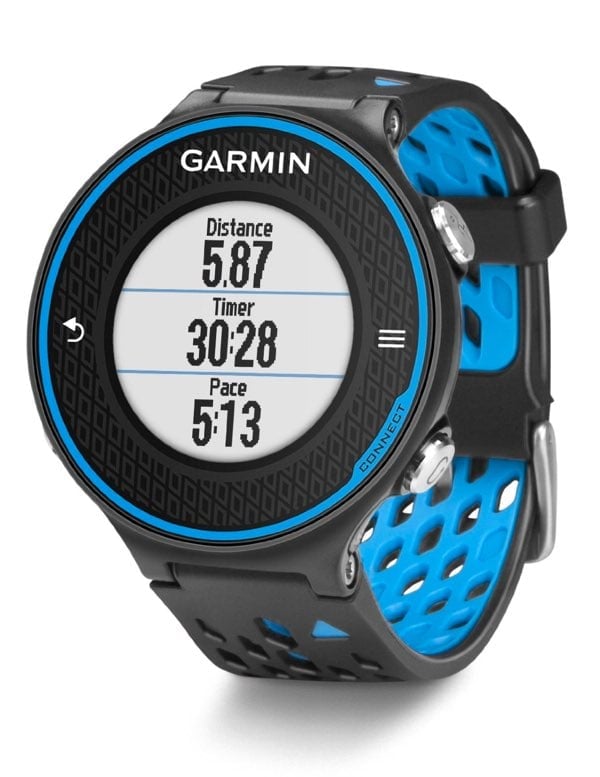 Our final pick for the best Garmin GPS watch for running is Garmin Forerunner 620. A watch that you can start to be interested in buying when you start thinking about marginal profits. The Forerunner 620 is the best that Garmin can offer us. It is much more than a GPS watch, this model is a virtual trainer. If you want to improve your running form and efficiency, then this is your watch. It tracks a whole series of running dynamics including cadence and vertical oscillation, gives you feedback on the effect on training of your last workout, recommends recovery times, and tracks your VO2 Max progress (maximum amount of oxygen (O2) that the body can absorb, transport and consume in a given time). Its price is about 299 euros.
Unsurprisingly, all the Garmin Connect tools are available: wireless syncing, Live Tracking, or automatic social sharing. It has heart rate monitoring with a chest strap.
Perfect for:
Running dinámico
VO2 Max
Cadence
Recommended recovery time
Heart rate monitoring