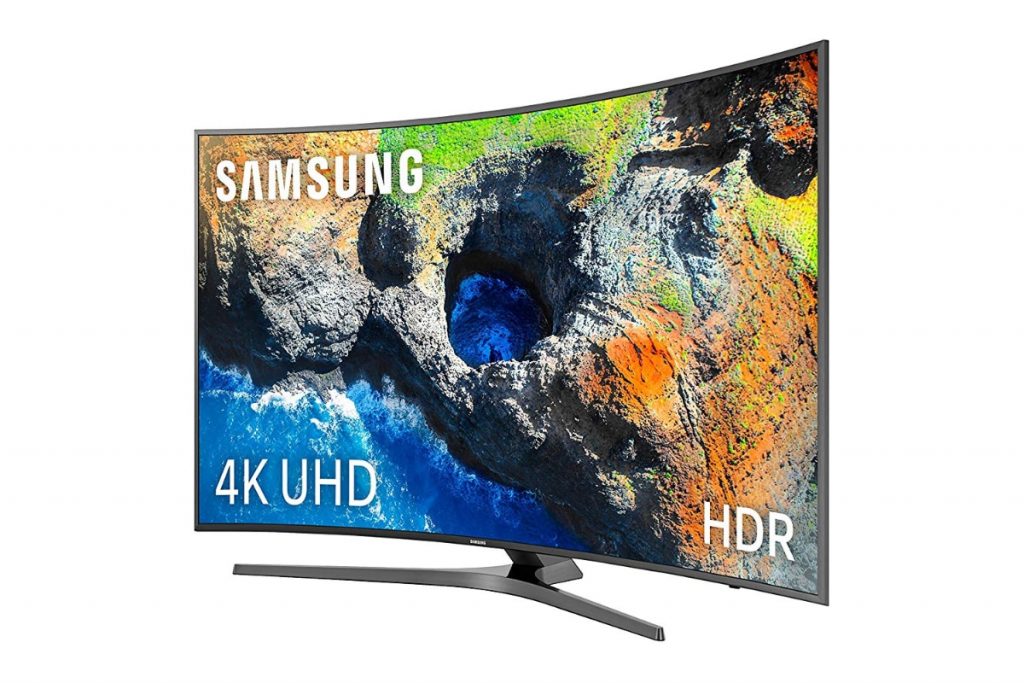 Companies like Samsung or LG continue to invest a lot of money in developing curved televisions, but is it worth buying a curved TV? Let's find out in this curved TV guide.
Curved TV models manufactured by companies such as Samsung. Every time they are more common in homes, especially now that their price has dropped a bit.
We are going to discuss what are the advantages and disadvantages of buying a television with a curved screen. Do you need a curved TV? We give you our opinion.
Curved TV: Pros Vs Cons
Pros
1. More Immersive Experience
The most valued argument for buying a curved TV. It seems that everything surrounds you and you only focus on what you are seeing on the screen
2. The Depth is Reinforced
It gives the feeling that you are facing a 3D screen since the perception of what we are seeing changes, the feeling of depth increases. Samsung adjusts the contrast of different parts of the screen to increase the sense of depth.
3. Viewing Distance is Uniform
What shape are our eyes? Flat? No, so if we have a curved TV that mimics the shape of our eye, the entire image should reach us at once. This is especially noticeable when we have curved televisions with a large screen and we stand at a distance of about 3 meters.
4. Better Contrast on Curved TVs
Curved screens focus the light coming from the screen more directly to the eyes and thus achieve a higher contrast, between 1.5x and 1.8x more than in flat screens.
5. Wider Field of Vision
Folding the edges of the image makes you feel like you are viewing a larger image than you would get with a flat screen.
6. Clearer Image
It is so, they catch our attention, perhaps because we are not used to seeing them.
Cons
1. Curve of the TV Exaggerates the Reflections
Any light source, especially those directly opposite your TV, will reflect on a curved screen over a wider area than would a flat screen TV.
2. Curve Limits the Viewing Angles
Thus, if you exceed a certain angle, more or less 30 degrees, you will see the screen worse and worse, so it would be better if you are practically straight watching these types of TVs.
3. Curved Televisions Must Be Large
And large means that at least we should buy a 55 ″ and if it has 65 ″ much better. In this way we will be able to magnify its benefits.
4. Better Not Hang A Curved TV
The truth is that they are somewhat strange hanging on the wall. Better support it on a piece of furniture.
5. They Are Very Expensive At The Moment
Under the same conditions, curved TVs are more expensive than flat TVs, even though they have dropped in price lately.
Optimal Viewing Distance For A Curved TV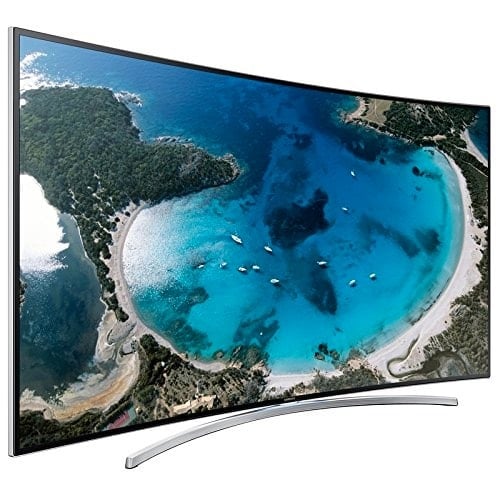 Here you have a very useful table where you can check the appropriate distances depending on the inches of your TV and its resolution. Better resolution equates to being able to watch TV closer. In the case of a TV between 49 and 65 inches if it has 4K resolution you can get very close to it, only approximately 2-2.5 meters.
Screen size
Optimal distance
(1080p)
Optimal distance
(4k)
25″
0.98 m
0.46 m
30″
1.16 m
0.52 m
35″
1.35 m
0.61 m
40″
1.56 m
0.71 m
45″
1.74 m
0.8 m
50″
1.93 m
0.89 m
55″
2.14 m
0.98 m
60″
2.32 m
1.16 m
65″
2.5 m
1.25 m
70″
2.72 m
1.35 m
What improves a lot in this type of curved TV is the viewing angle, wider than in their flat counterparts: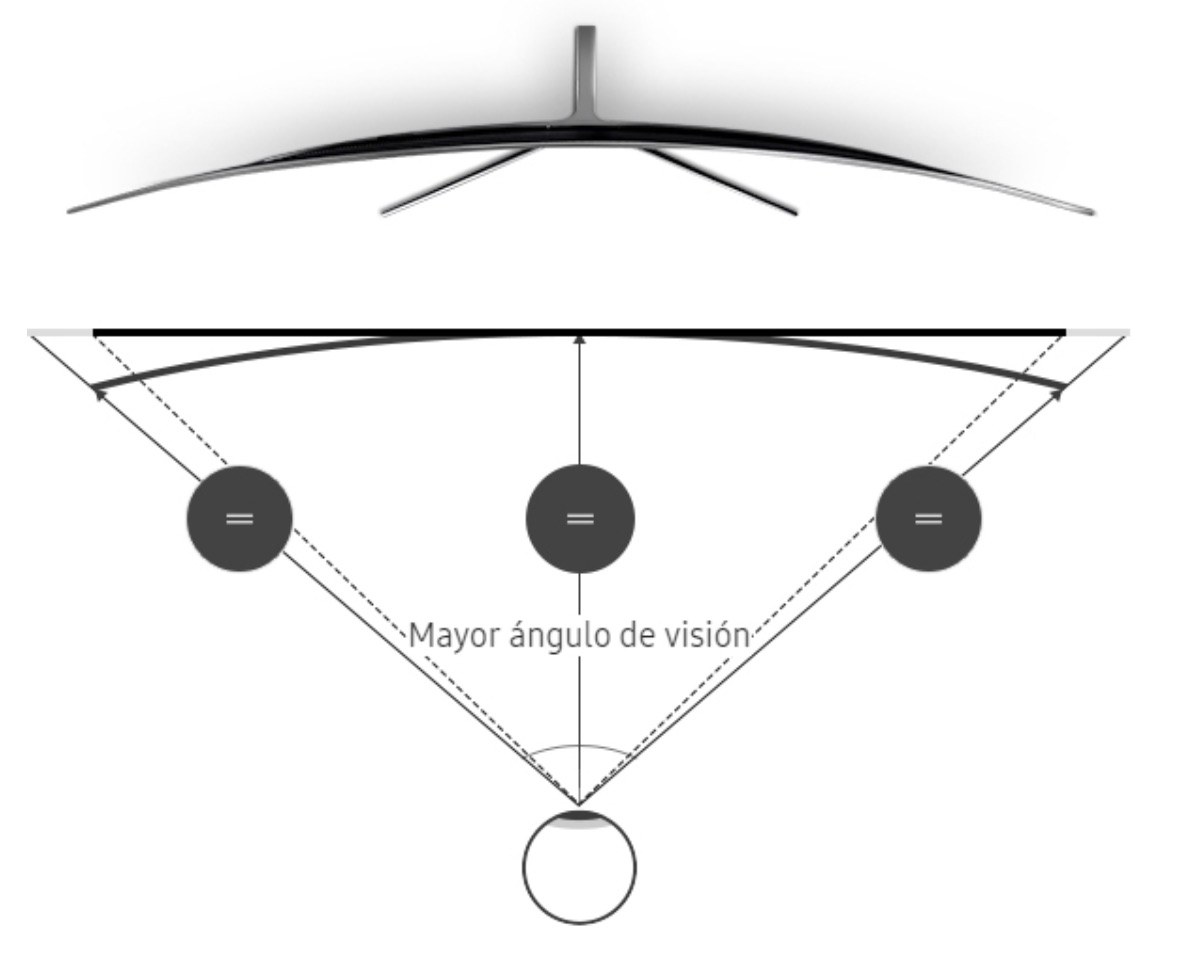 Conclusion: Is It Worth Buying A Curved TV?
Neither for nor against, you simply have to take into account a few things to buy a TV course, mainly that they are more expensive than a flat one, which are worth it if we buy a really large model, at least 55″ and much better if It is 65″, that you have to sit right in front in a straight line to obtain the best image and that you have to avoid that the reflections of the light sources annoy the image.
What's The Best Curved TV On The Market Right Now?
Samsung 49-Inch Smart Curved TV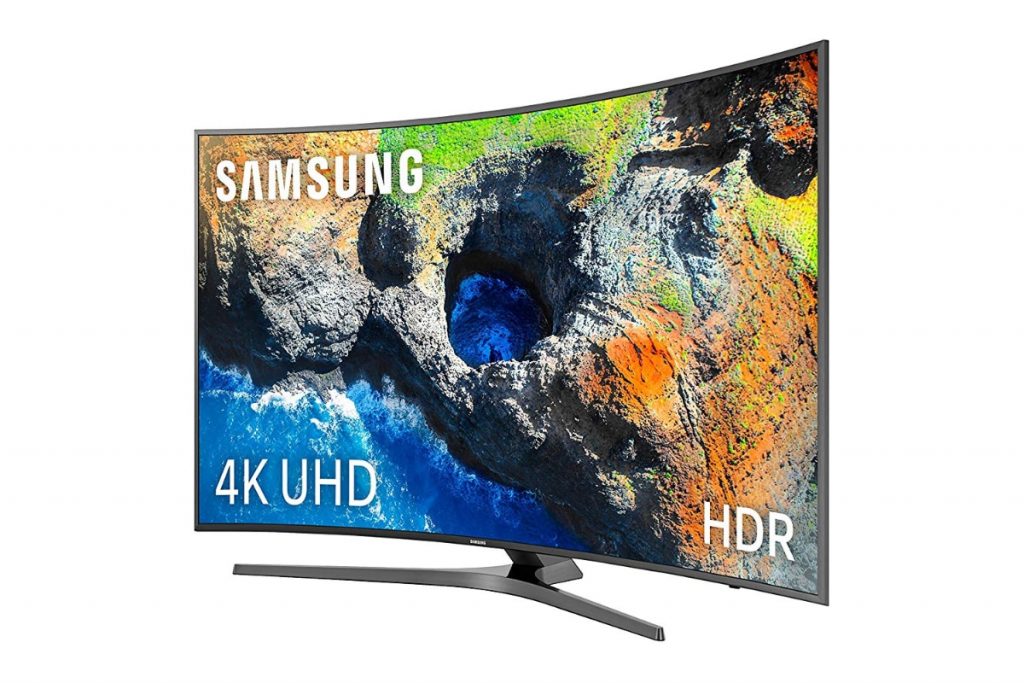 ---
Smart TV with integrated WiFi
4K UHD resolution, HDR
3 HDMI, 2 USB
Image quality with HDR, Active Crystal Color, Supreme UHD
Dimiming and Auto Depth Enhancer
Curved design
Premium remote control to remotely control all devices that can interact with the Samsung TV
You will not find a curved TV with a price as low as this and with the quality of Samsung. It usually costs around $600, has a 49″ curved screen with 4K resolution and is a Smart TV.
You have to keep in mind that being only 49″ in size, you will have to get close to be able to see it correctly. Otherwise, you will need a TV larger than 55″ to be able to properly enjoy a curved TV.
The remote has voice control, something really useful to search for content. Picture-wise, it looks really good with good brightness and deep colors. It looks perfectly on the entire screen.